SOVEREIGN The SOVEREIGN
"When we one day build the best amplifiers, we will name them SOVEREIGN."
(Thomas Hoehne in July of 1986)
"The work is done!"

The measure of all things. The best high end amplifier in the world. The world's biggest power amplifiers. Music adventures in live quality. Way ahead of all high end amplifiers by at least a decade...
All these or similar statements you've probably read or heard somewhere in connection with THE SOVEREIGN. Even the Guinness Book of Records already wrote "…Music in live quality..."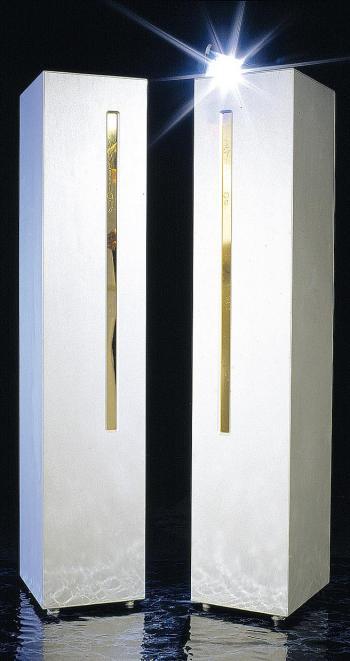 And that's what it is: the dream of a musical event in live quality in your own living or music room. THE SOVEREIGN is our dream in the shape and form of an amplifier. Even today the roughly one and a half metre high amplifier twin towers stand for a developing process unchallenged in any regard from its beginning to its end. "No Limits" was the challenge when we started with developing the "best possible amplifier" many years back. Today, and from now on, this also applies to the further development of THE SOVEREIGN and the intended and anticipated use of the newest materials, components and detailed solutions that we find within the scope of our ongoing research and apply to our amplifiers.
Already twenty years ago when we worked on the first prototype of this amplifier it quickly became obvious that the defined claim to realizing the 'best possible amplifier' and with that to implementing most possibly a 1:1 music reproduction needed to ignore then commonly known boundaries for performances, measures, materials and also modes of operations. So for example, a household electrical socket would not be sufficient to handle the power supply for a necessary maximum output of about 10.000 watt at 1 ohm. Therefore, THE SOVEREIGN can be operated in one of the possible operating modes on a three-phase A.C. Current.
The towering size with a height of over one and a half metres is surely one visually striking feature when you stand next to these amplifiers. This enormous size results from the need for space for the more than generously dimensioned and standard setting power supply unit with three gigantic transformers and 36 capacitors that go way beyond the common amplifier dimensions with a total capacity per mono tower of more than 1.4 Farad (1.400.000µF).
More technical details, we like to tell on request
THE SOVEREIGN.
Ultimate High End monaural Power Amplifiers. EUR 198.950,- (pair)
To vividly describe the size of the power supply unit and the amount of energy stored in the capacitors of our THE SOVEREIGN amplifier many writers have tried comparisons such as: "If one would set free the energy stored in the capacitors at once it would be the equivalent of about 1 kg TNT explosives". Or: "One single simple plate capacitor of this capacity needed to have an overall surface in which one could wrap the planet earth like a Mozart ball."

These and similarly interesting comparisons and descriptions from audio professionals and writers are always nice to read. They also express in words their enthusiasm about the hundreds of selected transistors or the precise manufacturing of the completely closed casing design made from 10 mm thick aluminium, providing an even heat dissipation. However, true enthusiasm about such technical efforts and implications and real feelings that get under your skin do not come by reading about it but rather when you experience THE SOVEREIGN amplifier. Nothing except for visiting a concert in real life is so vivid, emotionally grabbing and enthralling like the event of listening to your favourite music with THE SOVEREIGN. We put all our efforts to creating those moments and we want to fascinate music lovers like you every day with new music adventures.
Every delivery of these amplifiers to their new owners means, for us, delivering the currently technically state-of-the-art feasible into the hands of people who really love music and who can and want to afford the finest of the fine.
But only a very, very small number of interested buyers are granted to enjoy with us the moment of the very first power and start-up operations of THE SOVEREIGN amplifier. Per year only a few music lovers can be adopted to the circle of THE SOVEREIGN owners since these amplifiers are being produced by a small team of highly specialized technicians in devoted and diligent handicraft. If you want to belong to these few music lovers who can claim to own one of THE SOVEREIGN systems then contact us and inquire about some demonstration appointments and delivery times.
In the meantime you are kindly invited to visit us on Facebook. Until then and as always,
HAPPY LISTENING!